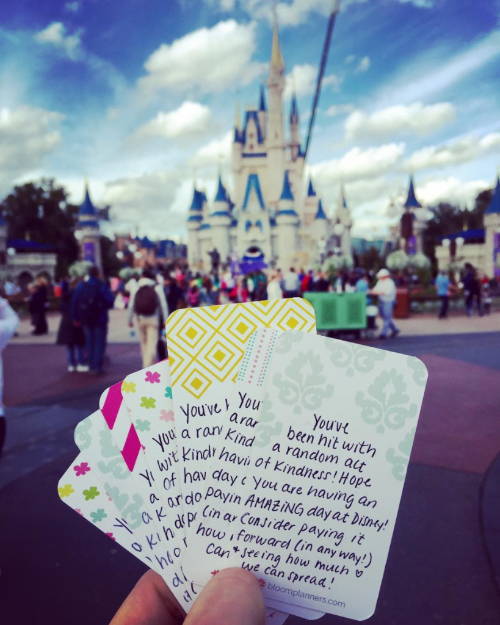 At bloom, we believe in the power of random acts of kindness! The idea for our new Act of Kindness Cards came from a recent company retreat in Florida. We went to the Magic Kingdom one day, and we had the idea to use our Belief Cards and surprise a few lucky guests with some random love! We wrote on the back of each card, "You've been hit with a random act of kindness! Hope you are having an AMAZING day at Disney! Consider paying it forward (in any way) and seeing how much love we can spread!" From buying hot chocolate and ice cream, to surprising children with light up Mickey Mouse ears, we saw how powerful these small gestures could be. Our acts of kindness not only effected the recipients, but they also effected the people around us who witnessed these actions, as well as ourselves, as we felt the pure joy of giving with no intent to get back. It was so powerful!
From this day, Act of Kindness Cards were born! These are different from Beleif Cards in that they have a PRE-WRITTEN message on the back, so they are meant to be used spontaneously, whenever an opportunity to be kind presents itself. How large is your wake?! How much love can you spread?
Need some ideas on how to be kind? We've compiled a list of our favorite acts of kindness below!
RANDOM ACT OF KINDESS IDEAS
Put quarters in an expired meter
Buy coffee for the person behind you in line
Donate clothing
Gift someone an old book of yours you think they'd like
Bake something for your neighbor
Call your grandparents just to chat
Pick up litter around your neighborhood
Sincerely compliment your boss
Hold the elevator
Leave an extra tip for your waiter/waitress
Donate used books to a library
Be a welcoming neighbor/write your neighbor a note
Leave quarters at a laundry mat
Bake someone a cake/cookies
Cook a meal for someone
Give away your parking spot
Play board games with senior citizens at a nursing home
Babysit for a single mom for free
Do the dishes even if it's your roommate's turn
Leave a nice letter in a library book
Write cards to children at a local children's hospital
Say thank you when you see service members
Tweet or Facebook message a genuine compliment to three people right now
Bring doughnuts (or a healthy treat, like cut-up fruit) to work
While you're out, compliment a parent on how well-behaved their child is
Help someone unload groceries at the store
Cook a meal or do laundry for a friend who had a baby or just needs a hand
If you walk by a car with an expired parking meter, put a quarter in it
Each time you get a new piece of clothing, donate an old one
Email or write an old teacher who made a difference in your life
Bring flowers to nurses at your local hospital
Talk to the shy person who's sitting by themselves at a party
Create activity bags for families of deployed soldiers
Be the person who puts a tip in the tip jar at the coffeeshop
Put bloom Belief Cards or Kindness Cards on the mirrors in restrooms
Pay the toll for the person behind you
Rake leaves or shovel snow for an elderly neighbor
Give up your seat to someone (anyone!) on the bus or subway
Donate socks and supplies to the homeless shelter.
Walk dogs at the animal shelter
Give a lottery ticket to a stranger
Volunteer at a soup kitchen
Leave sweet notes around the house for a spouse/sibling/child
Give blood
Have you been effected by the giving or receiving of an act of kindness?
"Thank you very much to the person who paid for my coffee at Wawa today! When I approached the check out counter,
the cashier said it's free and handed me the card. It made my morning! It was very unexpected but very much appreciated! Thank you! After looking at your website I see that you do so many wonderful acts of kindness! Please continue your work! Bloom Planners are making people smile again! Thanks again!"  - Amber B.
"I pulled into a McDonalds drive-in line in Mineola, NY. The car in front of me was in a modest white mini-SUV with Massachusetts license plates.
Upon my turn at the speaker station I ordered breakfast. My order called for payment of $5.20. I proceeded to the pay window and was told that the
woman in the car ahead of my paid for my breakfast. The clerk then gave me a card - on one side it read, "Kindness is Contagious."
On the other side it read, "Random acts of kindness will change the world if we create enough momentum together." -Tom C.