Co-Founder
Kaylyn
bloom has been a guiding light in my life since we planted that first seed. The bloom mindset is truly a way of life. It reminds you to be positive and grateful. To take time to reflect and make time for self-care and improvement. To work hard, plan for fun and manifest your dreams. The tools we create and the team and community I surround myself with help me to do just that. Our products help me focus, set the tone for my days and record some of life's most precious moments. I am so grateful to be a part of a community and mission that can change people's lives. We hear the most heartwarming stories and feedback from so many of you and that is the reason I do what I do. I love my job, my bloom family and our community. It fills me with gratitude and purpose. I cannot thank you all enough.
Favorite bloom product:  I can't go without my Vision Planner and to-do pads at work. Each morning I can't wait to turn my Desk Easel page to get inspired and set the tone for my day. At home we love our Dry Erase Calendar on the fridge and use a variety of planning pads to plan out meals and household chores.
Co-Founder
Michelle
I am Delaware born and raised, and a proud graduate of the University of Delaware. I absolutely love to travel I've been lucky enough to visit 13 different countries! I love trying new things and going on new adventures. Even when I'm at home, I'm constantly on the go. I've always utilized planners and lists to keep myself sane. I tend to double book myself for things, even though, as my husband constantly reminds me, "You work at a planner company!" That's the reason I love bloom so much - I truly need the products! I love creating products that help me feel more "put together." Hearing from others who feel less scattered because of products/layouts I've helped create makes me truly happy and fulfilled. I am so grateful for a platform that allows me to be creative and help uplift others. I am so grateful for my wonderful husband, Shaun, our beautiful baby boy, Merrick, and our 115 lb Golden Retriever, Bodhi!
Favorite bloom product: I would be completely lost without my Vision Planner. All of our planner stickers also make planning so much fun.
Office Manager
Katy
If you've ever emailed bloom@bloomplanners.com you may have talked to me there.🙂 I handle a lot of our customer messages. I love getting to hear from you and everyone in our bloom community. It's so fun to read your feedback on all of our products and be able to take those ideas, share them with our design team and help them become a reality! I grew up in Maryland on my family's farm and officially moved to Delaware after graduating from the University of Delaware. My husband and I purchase our first home and are now getting ready to welcome baby boy DeLuca in a few weeks! I love working on projects around the house, playing with our cat, Penny, or finding a new home workout. I also love finding new hiking trails in the area or doing anything outside. I used to try to pack my schedule with things to do but lately I've been trying to enjoy the time I get to spend at home and be more grateful for the little things. Despite a more open calendar, I'm still a planner girl through and through and so happy to be surrounded by this community of fellow planner lovers. You inspire me every day!

Favorite bloom product: Classic Fashion Planners! I use two - one for my work/personal agenda and another for my workout schedule.
Sales & Customer Service Support
Jen
I graduated from the University of Delaware in 2011 with a major in Interpersonal Communication and a minor in Cognitive Science. It was during my time at UD that I first started working for bloom's sister company, Student Media Group, where I helped produce student planners for universities across the country. Now several years later, I am so excited to be focusing on bloom and so thankful I get to be a part of such an unbelievable team. Part of what makes my job at bloom so great is my love of interacting with different types of people and establishing genuine connections. I am truly passionate about connecting with our customers and ensuring every bloom girl's voice is heard. When I'm not at the office, I'm usually practicing the martial art of Aikido or spending time with my amazing husband and our rescued dogs, Samantha, Ace & Porsche.  

Favorite bloom product: My schedule would be a complete mess if I didn't write everything down in my Monthly Planner. I am the worst at remembering events and deadlines!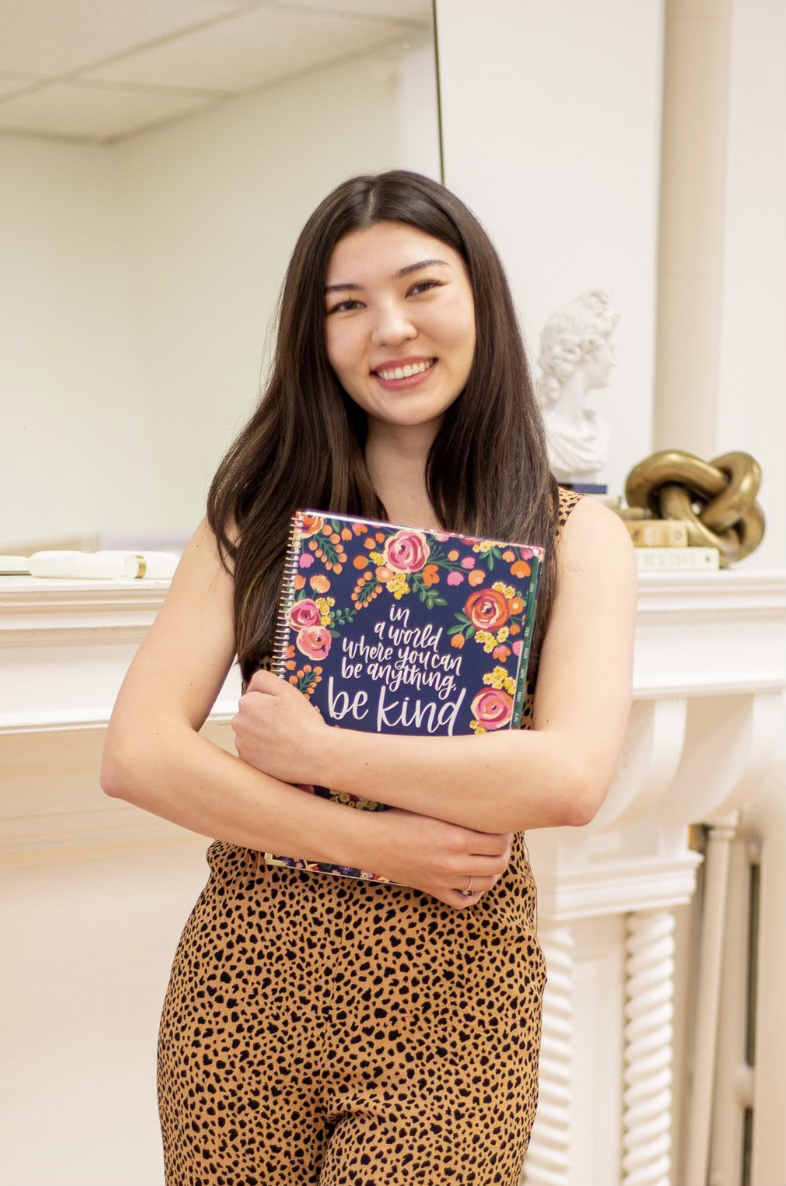 Operations Support
Emily
Hello bloom girls, I'm ecstatic to be here! I'm a proud recent graduate (Go Blue Hens!), where I got my degree in public relations. I love trying new things - whether it's traveling, hiking, rock climbing, cooking...I love being active! I'm also an avid reader (currently reading "Crying in H-Mart"). Throughout college, I was blessed with numerous internship opportunities, ranging from PR agency experience and in-house marketing, to production (here at bloom!), to student leadership. I've always been in awe of bloom and this wonderful team of "doers" - people who can turn a dream or thought into a reality. I'm excited to return and be supporting a different side of bloom. My wish is to help coach, and be a cheerleader for bloom girls and do my part in ensuring that our products best serve the planner community. We are always listening and so appreciative of the feedback and success stories you share with us.

Favorite bloom product: The vision planner is my go-to (especially with my big handwriting, haha)! I love spending my Sundays decorating my planner with my planner stickers, too. My Positive Affirmations Desk Easelbrightens up my day, every day.
Assistant Operations & Marketing Manager
Caitlin
I graduated from the University of Delaware with a Psychology degree in 2011 and have never lost my desire to figure out what is happening in people's heads. In every job I've had, I have always strived to find creative opportunities and I love to inspire others to do the same. This developed into a love for social media and its ability to bring people together around common interests (like art, stickers, and TikTok dances). I have a very special place in my heart for all video content and I am a proud YouTube creator. I think in a world where your voice can reach so far, it's important to send out positivity and kindness. I am lucky enough to have two daughters and an amazing husband who help me to laugh every day and keep me motivated to keep inspiring others.
Graphic Designer
Jenn
Ever since I was a kid I was always fascinated with art and drawing. Taking classes on the weekends as a kid and in high school, drawing for my friends and even doing a drawing demo for a class project. When I found out in High School that I could have a career being creative it was the best news ever. I graduated with an Associates Degree in Graphic Design from Delaware County Community College in 1996. My career started out working with some of my current co-workers 20 years ago in the yellow page industry and now I have come full circle getting to work with them again and many other great people here at bloom. When not working I love spending time with my boyfriend going to flea markets, car shows, botanical gardens and also spending time with family and friends. It's been amazing to watch how much this company is blooming every year.

Favorite bloom product: I can't work without my Desk Calendar. It's my go to product for keeping all my schedules organized for project deadlines and for all my personal appointments. I also love our Hanging Wall Calendar and planning pads!
Graphic Designer
Meredith
Hi bloom community! I'm Meredith and I'm a new addition to Bloom's design team! My journey in art began as a childhood hobby and later turned into a full-blown career! I'm a Delaware native and I attended the University of Delaware where I studied Visual Communications (c/o 2014). After graduating, I first discovered Bloom while looking for jobs and became a fan of their products and message immediately! I began my career working in print and advertising design, however I felt like I was missing out on flexing my creativity so I began creating my own planner stickers at home! Now, I am so excited to bring my style and experience to Bloom where I can create products and images that uplift others and have a positive impact on the world! When I'm not making fun things for Bloom, you can find me hanging out with my best friend - a rescued lab named Nash, reading, writing, playing video games, crafting, or spending time with my family!

My favorite bloom product: Soft cover daily planner and the sticker packs! Decorating my weekly spreads with fun stickers and colorful designs takes me to my
happy place!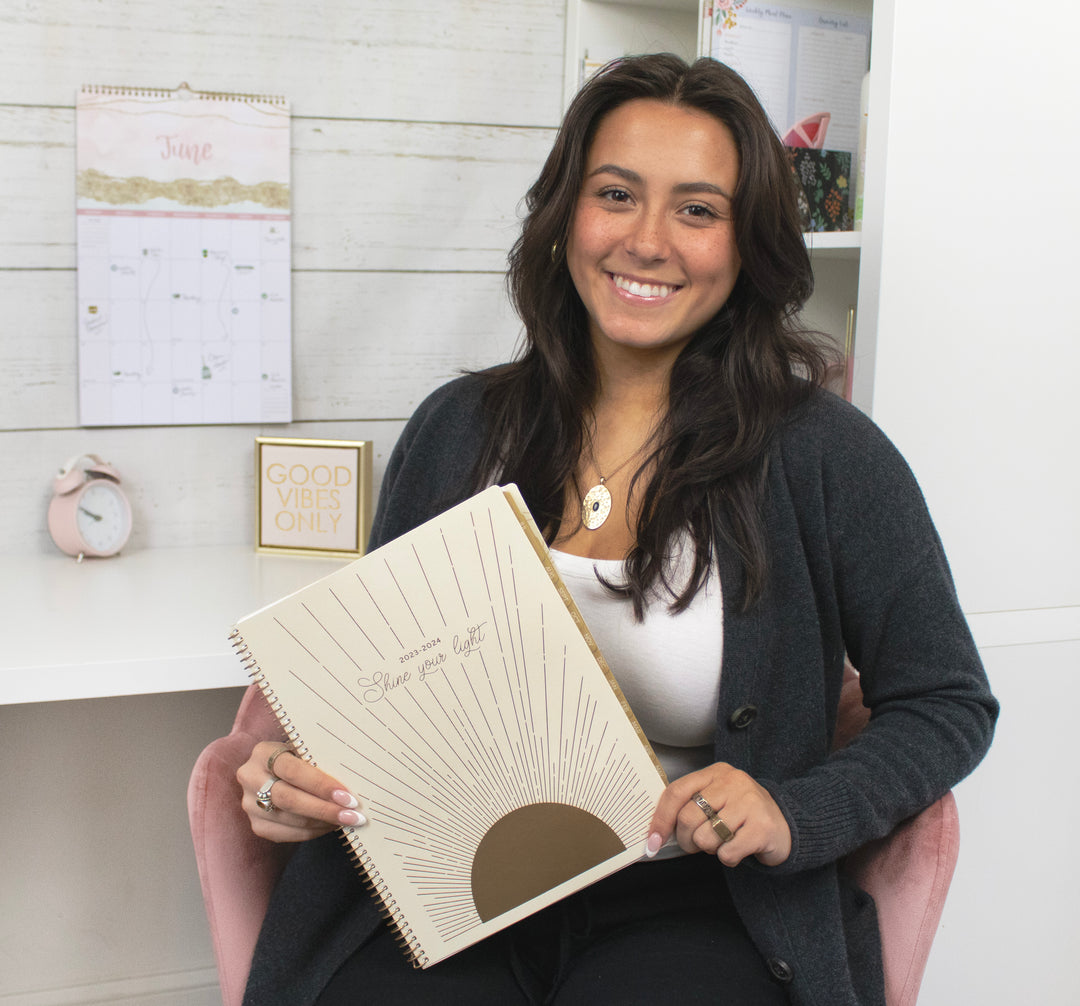 Operations & Social Media Intern
Nina
Hi bloom community! My name is Nina and I am a senior Public Relations major with a double minor in Advertising and Fashion Management. I am so excited to join the bloom family as an Operations & Social Media Intern! Ever since my first interview with bloom, I knew this was a community I needed to be a part of. Aside from being a student at University of Delaware and an intern, I am also involved with the fashion magazine on campus, UDress Magazine, as well as my sorority, Chi Omega. When I'm not busy, I can be found watching movies, shopping or reading!

My favorite bloom product: Definitely the weekly to-do lists. I have a very busy schedule, which I love, however it can get overwhelming fast. Without a solid to-do list, my tasks would be never ending!
want to join the family?
Work with us!
We're always hiring for our seasonal internships in our Newark, Delaware office.